Potato Pancakes for Baby – The Homemade Baby Food Recipes Blog
If your little one likes to feed himself, he'll just love these potato pancakes!
They have a lovely soft, smooth texture so they're very easy for him to manage and a subtle flavour that makes them great with breakfast, lunch or served up just as they are!
This is one of our favourite recipes for using up leftover mashed potato – just freeze it in half cup portions and you'll always have some on hand to whip up these pancakes whenever needed!
If you don't have any mashed potatoes available to make these pancakes then simply boil and mash a couple of potatoes before you start.
Perfect for baby-led weaning, we think that the BEST way to serve these is with lightly scrambled eggs, but another idea is to spread them with your baby's favourite puree (in fact, this would be a great way to use up any leftover puree you may have).
This recipe makes 4 large potato pancakes, or 8 mini ones.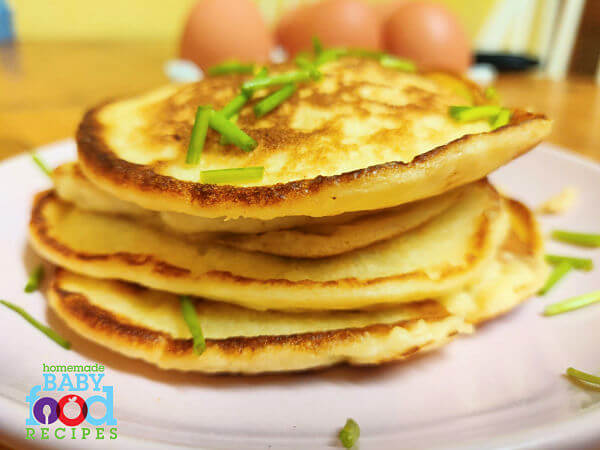 To Make Potato Pancakes for Baby You Will Need
1/2 cup mashed potato
1/4 cup all-purpose flour
1/2 teaspoon baking powder
1 egg
1/4 cup whole milk
2 teaspoons chopped chives (optional)
1/2 tsp sunflower oil
1 tsp butter
In a bowl, combine the mashed potato with the flour and baking powder.
In a separate bowl, whisk the egg with the milk.
Gradually mix the egg mixture into the potato mixture, beating well so that the batter is smooth.
Stir in the chives (optional)
Heat the sunflower oil and butter together in a large frying pan over a medium heat.
Spoon in the batter to create 4 large pancakes or 8 small ones.
Fry for one minute, then turn carefully with a spatula to cook for 1 to 2 minutes on the other side until golden brown and cooked through.
These pancakes freeze well, so you can make a batch ahead of time and reheat them on a busy morning. Freeze them on a baking sheet in a single layer and once they're frozen solid, transfer them to a zip-top food safe bag. Use them within 1 to 2 months.
Variations
If you want to change this recipe up a little, try:
using sweet potato instead of white
swapping the chives for your baby's favourite herb
adding a touch of garlic powder along with the flour
stirring some grated cheese into the batter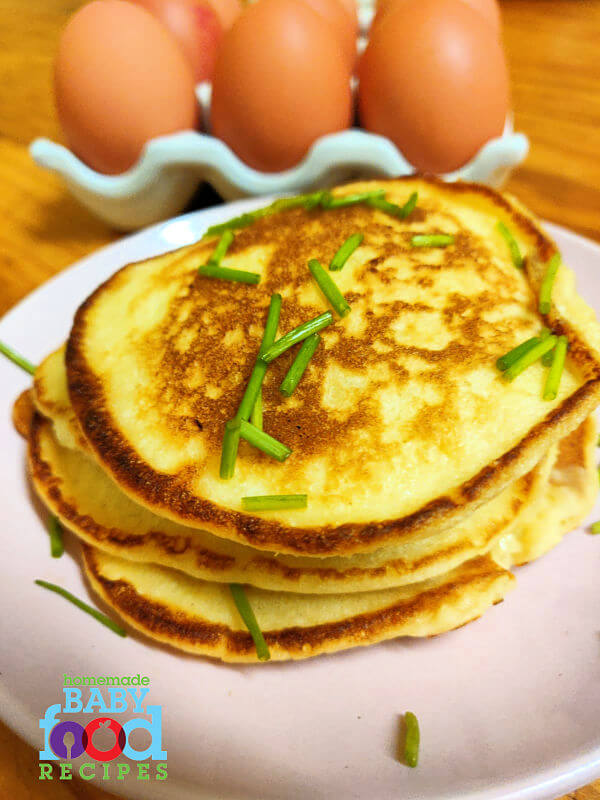 Get more tasty breakfast ideas