Sweet Potato Boxty for Baby – The Homemade Baby Food Recipes Blog
If you're not from Ireland, you may be wondering what on earth 'boxty' is. If it's not something you've ever tried before, then let me tell you… you're in for a treat!
Boxty is a traditional Irish dish of mashed potato mixed with grated raw potato and a few other ingredients, formed into pancakes and fried. And it's absolutely delicious!
The pancakes are usually served with breakfast, although you can serve them with just about anything you like!
They're great for babies who are enjoying finger foods or baby-led weaning, because they are easy to bite and chew and they have a lovely soft texture inside.
Boxty – whose name comes from either the Irish 'arán bocht tí' (poor-house bread) or the word for bakehouse (bácús) – is traditionally made with white potatoes. We've put a nutritious little spin on the recipe by using a combination of white and sweet potato.
You could even make them with all sweet potato – but we had a white potato to use up so it was perfect for this dish!
Making boxty is a great way to use up leftover mashed potato. Another option is to bake a potato in its skin and use that instead.
Variations
It's easy to tweak the basic recipe below to be just the way your baby likes it. Why not try
Adding garlic powder or chopped herbs to create bold, new flavours
Adding finely chopped onions or chives
This recipe makes 4 boxty (potato pancakes)
To Make Sweet Potato Boxty for Baby You Will Need
1/2 cup grated potato (we used white)
1/2 cup sweet potato mash
1/2 cup all-purpose flour
1 teaspoon baking powder
1 egg, lightly beaten
herbs or spices of your choice (optional)
2 tbsp olive oil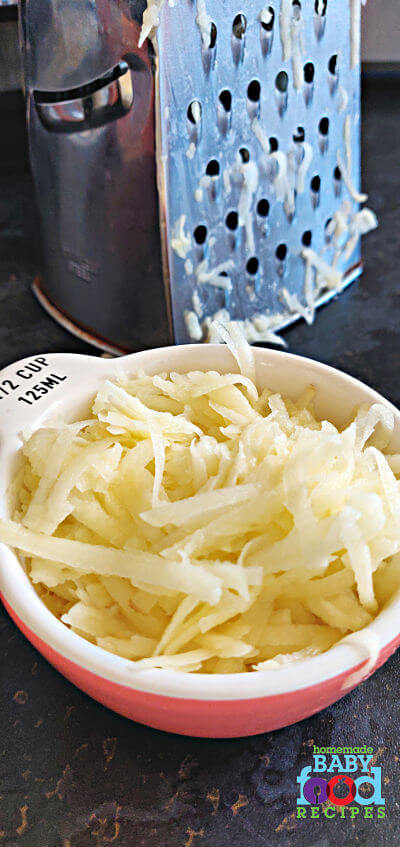 Wrap the grated potato in cheesecloth or very strong kitchen towel and squeeze as hard as you can to remove the liquid.
Put the grated potato into a bowl and add the rest of the ingredients.
Mix thoroughly until well combined, to form a batter. The mixture should be thick and sticky. If it seems TOO thick or dry, add a little milk to loosen it up.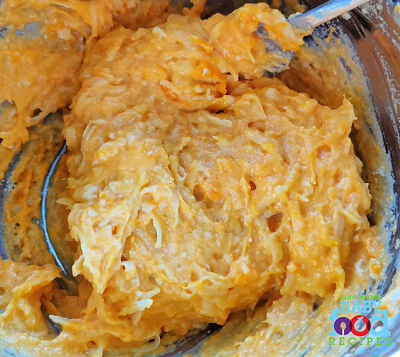 Heat a skillet/frying pan and add the oil.
Spoon in the batter to create 4 individual pancakes. Flatten on top (although these don't need to be as thin as crepe style pancakes!).
Cook for a few minutes over a medium heat until the underside is golden. Turn carefully with a spatula and cook for a few minutes on the other side.
You can keep cooked boxty in the fridge for 2 to 3 days – just pop them back into the frying pan/skillet to warm them back up.
You can also freeze boxty for up to a month, but put a piece of greaseproof paper between each pancake to stop them sticking together.